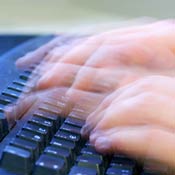 Whilst on my job hunt in this past three months I've come across so many automated application responses and recently when I've been applying for roles that I'm over-qualified for, I've been getting those 'You have not been successful in proceeding to the next stage of the recruitment process' letters too. Ho-hum.
Now in my current short-term contract role I find myself writing functional specifications for a system to produce such letters. It's depressing analysing all the different types of letters for ineligibility, rejection, withdrawal of application and then physically fleshing out how they will work/appear/worded - to be sent top people , just like me.
Oh well, I'm moving on to letters of offer and-the-like soon…. Hopefully in my real life soon too!
Print this post in friendly format