Well hello everyone!
In an unprecedented absence I am pleased to report that Laura and Olivia's birthday party went swimmingly (report to follow promise!) and my Christmas is albeit done - a few presents to wrap and one ingredient to buy! Not bad!
I'm presenting this weeks' Make it from Scratch Carnival which invites submissions worldwide on household ways to 'make from scratch'. Anyone can submit! See end of post for more details!
Without any further a-do - here is this weeks' carnival!

RecycleCindy over at
MyRecycledBags
.com this week had me reminiscing about crafty gifts my grandmothers used to make - I still have a few of these
Christmas Towel Toppers
and they are brilliant for hanging off kitchen cabinets and door knobs to keep hands dry or any general kitchen use. Now I can make my own (when I learn to crochet of course, must put that on my new years' resolutions!)
It's all about snowmen this week (and it's strange for me because currently it's warm and summer here!) and here is a cute little craft using glass icecubes - Icecube Snowman ornament! Cute huh? Thanks to Jessica at the Factory Direct Craft Blog for submitting this!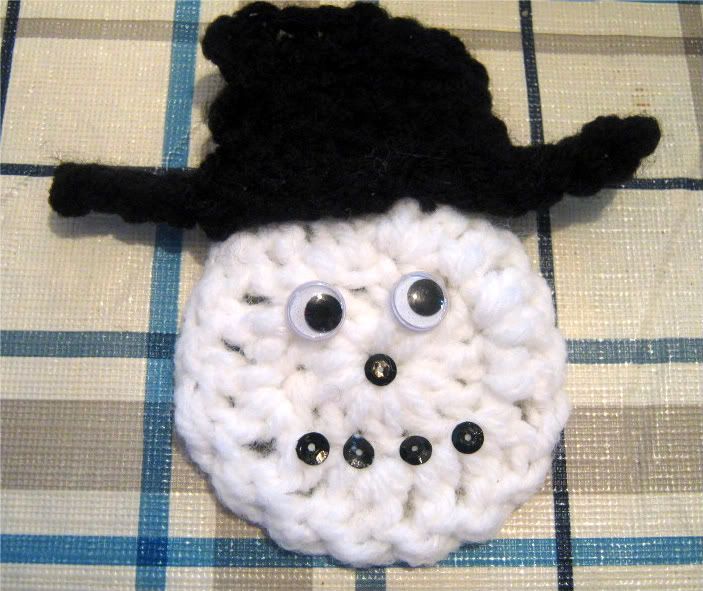 Thanks to Kim the HomesteadMommy over at
Homestead Acres
has shared her pattern for
crochet snowman tree decorations
- they would also be great glued on to napkin rings I think for your Christmas table don't you think?
We didn't have one of these this year, but thinking about next year, it's great to see how simple it is to make your own Advent Calendar! Pamela at Blah, Blah, Blog shows us how she made hers!
The Homemaking Helper
this week shares one of those yummy morsels that's sure to get your festivities going off with a bang -
Sausage and cream cheese mushrooms
, these sound and look delicious ( and a little bit moorish!)
My friend Rina over at
Gotta Little Space
this week shares her recipe for
Crockpot potato chowder
- that does look like it will warm the cockles..!
Still on potatoes, the ultimate comfort food - have a looksee over at
Funny About Money
this week. You'll find a recipe there fit for anyones' Christmas table: C
rockpot scalloped potatoes - hold the canned soup!
If you're more of a potato traditionalist, or you don't have a crockpot you can't miss the submission from Amanda at
My Daily Diner
this week -
Creamy-Cheesy-Scalloped Potatoes
. *drool*
If you're looking for shortcuts for the dinner table this week - look no further than this
easy creamed spinach
recipe from
Chief Family Officer
. We luckily, have so much spinach (silverbeet) in the garden we won't need to buy frozen, but those of you up there in the Northern Hemisphere - it's a great alternative when it's not in season!
Now talking of soup, have you ever thought of preserving your own home made ones? It's not a common practice here in Australia but it looks super easy! Thanks to Kim the Homestead Mommy - she shows us how she makes her
Homemade Canned Beef Soup
over at her blog - Homestead Acres. Here's the VIDEO!
Katie over at
Kitchen Stewardship
has been cookie spotting! Head on over and see recipes for a healthier Christmas alternative:
Wholewheat chocolate chip cookies
If you don't mind a guilty indulgence (especially at this time of the year!) try out Kristia's
Chocolate Whoopie Pies
over at her blog
Family Balance Sheet
! It's her mothers' recipe and if you ask me, look absolutely irresistible!
Have you ever thought about
making your own coconut milk
? Not me! But if you'd like to -
Thailand Breeze
explains how!
Gramma Greenjeans at
Better Gardens than Home
obviously knows I have two trays of peaches sitting in my kitchen! This week she's submitted her recipe for
Homemade Peach Cobbler
! Nom-nom!! Thank you!
Oh my I love this! Cyndi at
Mixed Media Artist
shows us how to make a
journal or scrapbook cover
made out of the most amazing things! This week it's a circuit board! Now if you have a geek in your life who has everything, this might be a winner for you - how cool!
Crafty Rose from
Fine Craft Guild
has assembled a range of easy, achievable
handmade Christmas presents for her
this week. From stamping, to knitting and sewing - there might be something you can make for a quick stocking filler or for that person who has everything!
Brooke from
Ramblingbrooke
is obviously queen of the scarves! This week she shares her tips for
making your own faux fur scarf
! Very stylish yes?
Here's a scarf idea if you love to recycle -
Make your own 'Necklush' Knockoff (aka turn and old t-shirt into an awesome scarf)
presented by Emily at
Insert Catchphrase Here
.
Thank you to all those who submitted this week - please don't forget to use the social media buttons at bottom (twitter, stumble, delicious, Technorati) to spread the love and generate more interest in both the carnival and individual submissions!

Print this post in friendly format